Captain Don Miller, licensed charter captain, U.S. Coast Guard, Merchant Marine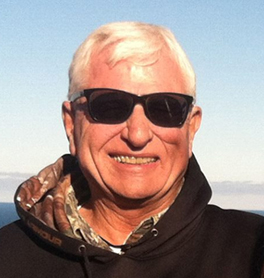 Charter Captain Don Miller, of Miller's Motor City Muskies, has been featured on numerous outdoor television and radio shows, and has high marks from the outdoor writers from around the country who have visited the lake and personally enjoyed his expertise on his charter. His career on Lake St. Clair spans over 30 years, during which time he has successfully boated over 10,000 muskies. Enthusiastic anglers from 33 different states across the nation, and from 14 different countries globally, have come to Lake St. Clair to fish with Captain Miller to catch their trophy muskie and join the Motor City Muskies family. He has also given seminars and written many articles about his experiences, published in such magazines as Musky Hunter, and Fur, Fins, and Feathers. Click here for his bio.
Member of Pro Staff at Drifter Tackle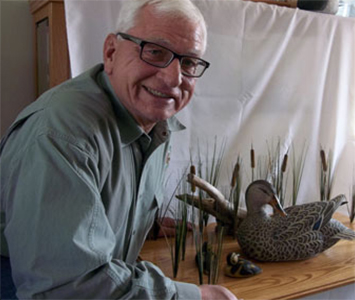 World-class Woodcarver
Don's life-sized, decorative carved wooden ducks are designed to be trophies for any mantel or desk. Each duck is hand-carved from basswood, tupelo, or sugar pine wood, with detailed feathering and realistic painting. Don attempts to capture not only the actual colors and poses of each waterfowl species, but also the personalities and expressions that make you think they are alive. No two are alike. His honors include Best of Show in the Professional Division, 47 blue ribbons, 38 red, and 8 third place, as well as several People's Choice awards. Samples of his work, commission pricing, and the numerous ribbons and awards his carvings have won, may be found at http://www.3dwoodcrafting.com.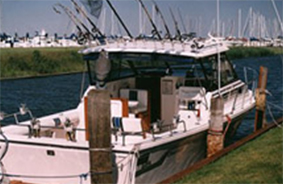 The Muskie Hunter
Welcome aboard the "Muskie Hunter," a comfortable and spotlessly clean Baha 299 Sportfisherman. This beautiful boat features a walk-down cabin with full facilities and plenty of room on deck for when things get a little crazy on our muskie fishing charters. The Muskie Hunter is equipped with state-of-the-art electronics and topnotch gear. Everything necessary for fishing is provided, and it is all first class--from the vast lure selection, right down to the custom rods specifically designed for the various trolling presentations.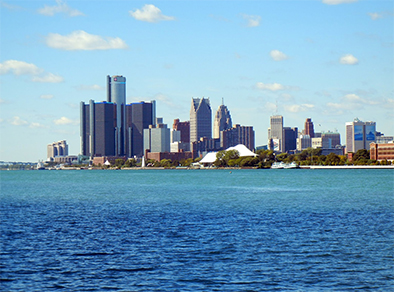 Lake St. Clair
Lake St. Clair is undoubtedly the world's most productive muskie fishery. The naturally reproducing Great Lakes strain of muskie grow fast, big, and MEAN. The Michigan DNR and Ontario MNR are managing Lake St. Clair as a Trophy Fishery with a minimum size limit of 44 inches. Catch and Release is widely practiced and the catch rate and size is getting more spectacular each year.
Multiple fish days happen frequently, and many muskies over thirty pounds are caught every year. Book your muskie fishing charters with Captain Don, and see why muskie charters with him on Lake St. Clair are so popular.

Catch and Release
Don is an avid proponent of Catch-and-Release for all muskies. This practice has helped Lake St. Clair gain recognition as the premier muskie fishery in North America. All muskies boated on Miller's Motor City Muskies charters, regardless of size, are Catch-and-Release.